Which Miraculous Ladybug character are you?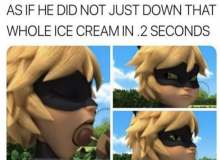 Hey! Welcome to my quiz, a lot of research went into this! Also do you like the picture? Do you? UwU So uh yea, if the information I used is false BLAME THE PLACE I GOT IT FROM!
Fun facts: If you say fun fact people are almost everytime gonna look. The characters you can get are Marinette, Adrien, Chloe, Kagami, Luka, Juleka, Alya, Lila, Nino, and Sabrina.
Created by: Madelyn