Which Harry Potter Girl Are You: A Hogwarts Story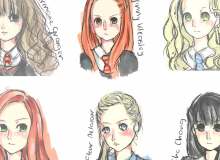 This quiz is told in a story - of your time at Hogwarts. Please say honest answers - after all, as Luna Lovegood would say, there is no point lying to yourself. Just try your best and be happy with the outcome.
Here is the scene: You are a muggle-born, and you have just arrived on Platform 9 and 3/4s. Your parents have said goodbye to you, and you are standing in front of the train. Just then, the conductor blows his whistle. You quickly scramble onto the train, lugging your trunk with you. With another whistle and a puff of smoke, the train is off. You are on your way to Hogwarts!