Which Goosebumps Monster are you?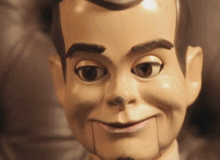 This is a Goosebumps Quiz to see which monster you are. You may get Slappy, You may get Invisible Boy or you may get something else! Who do you think you are most like?
This is my first quiz. Please don't send any hate comments. I hope you will like it. I also have a YouTube channel. It is called Popdragon Gaming. No spaces in Popdragon.
Created by: zzzmmmccc