Which Dinosaur Are You?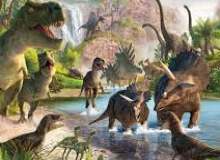 So, do like dinosaurs? Well, take this fun quiz to see which dinosaur you are at heart! You can be the strange Spinosaurus, the vicious Velociraptor, the terrifying Tyrannosaurus Rex, the tame Triceratops, the big Brachiosaurus, and yes, even the super Stegosaurus.
So, which dinosaur are you? Take this 13 question quiz to find out the best match for you. My personal favorite is the Spinosaurus, and I'm also one at heart!
Created by: Z Dark Cheetah