Which Books of Bayern Character Are You?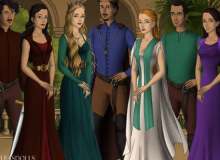 Welcome to my quiz! Have you ever wondered which character you are from the Books of Bayern? I hope you enjoy taking this fun and fairly accurate quiz. Who do you hope to get? The hilarious Razo? The fiery Enna? Or the quiet Rin?
No matter who you get, I think that they are all amazing characters, and you will have a fun time taking this quiz. Please comment, and/or like! Thank you, and quiz on!
Created by: IsiTheTrueGooseGirl