What Would Your Warrior Name Be? (girls only)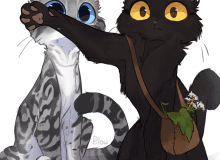 Want to find out what your Warrior name is? Here you will find out. Unfortunately, all of the results are she-cats so this quiz is dedicated to girls, but guys can play it.
I will make another version of this for guys, but I won't make one for both genders because that will be too complicated for my lazy mind. I hope you enjoy this quiz. I got the art from Graypillow's Warrior Cat art. Also, I don't care if you use these names or descriptions for fanfiction or roleplays, it is totally fine.
Created by: abi