What WOF tribe are you?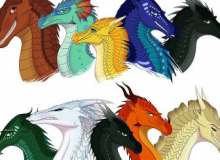 There are 10 tribes. I'm only doing the Pyrrhian tribes in this quiz, but I might do a Pantalan tribes one later. This is my first quiz, and I'm still figuring it out, but here!
Results: There are: Seawings (Aquatic), Skywings (Classic), Sandwings (Desert), Rainwings (Rainforest), Mudwings (Swamp), Icewings (Cold), and Nightwings (Night). Who will you get?
Created by: HydraTheSeawing