Wedgie Punishment Quiz (Guys only)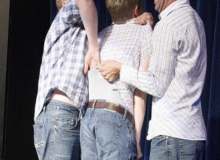 You accidentally pissed off a group of guys notorious for their wedgie giving status. You know that a wedgie is unavoidable, but the severity you have yet to figure out.
Take my quiz to figure out what kind of wedgie you deserve. I hope you enjoy it and if you have some willing friends you could have them give you your results.
Created by: Lots_of_fun_fun_fun