What Warrior Cat Are You?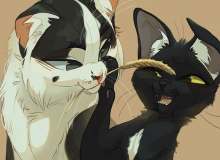 Want to know what Warrior Cat you are? This is the place to go! This quiz will tell you which Warrior Cat out of ten you are! This is inspired by the Warriors series by Erin Hunter.
The results include Firestar, Hollyleaf, Lionblaze, Jayfeather, Dovewing, Ivypool, and Graystripe. There are ten questions in this quiz. I hope you enjoy it!