What's Your Life Like in the Percy Jackson Universe?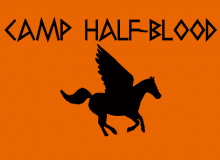 This quiz is for those who wish to see what their life would be like at Camp Half-Blood, for example: If they're a demigod or not, who their best friends at camp are, and what they excel at!
If your test results come out saying that you are just a regular mortal, don't panic! Most of us half-bloods would give anything to live a normal life like yours! Just keep reading stuff about the Greek gods and their mythology so that way, if you do become a demigod/half-blood someday, you'll be ready!