What Kind Of Hanging Wedgie Should You Get? (Guys Only)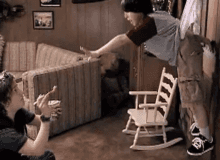 This quiz will determine what hanging wedgie you should get and how long you should hang for. You can hang from a door, coathook, fence, tree, or even a flagpole.
Do you have what it takes to endure the hanging wedgie? When you finish this quiz, give yourself the wedgie that you get. Yes, even if it is a flagpole wedgie.