How much of a Bobert fan are you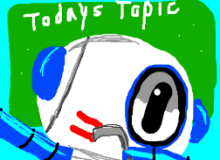 So we all love Bobert but it's important to know how much of a good person you are entirely dependant on how much Bob trivia you know This is a totally fair system Robin: You haven't changed at all. Before you couldn't say no to people, and now you can't say no to the cartoons.Cartoons: THAT'S NOT TRUE!Jimmy: That's not true.Tux: Zing!
Note: Scores bellow 50 are punishable by death Craig: [wearing a big spider costume] Dude, where were you this morning? You totally left me hanging!Jimmy: Dude, I told you yesterday.Craig: It was so perfect! Fairplay was gonna wake up, see me over her bed, and think she was 2 inches tall and never come to school again! But that didn't happen, because you weren't there! You know what a giant spider is without a rope to hang from? Just a guy breaking and entering!Jimmy: Well, I told you my dad's gonna take over.Craig: And I ignored you! I couldn't have been more clear!
Created by: jesus chris