What is your Wings of fire tribe ( Pyrrhia ) ?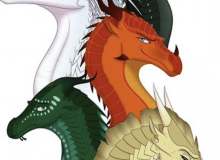 Ever wonder what your wings of fire tribe is? Well your in luck! DISCLAIMER: I may get the personalities wrong. I don't own the pictures either! Have fun! I might make a Pantala quiz too!
Ok. Why are you still reading this u have a quiz to take. TAKE THE QUIZ. I might do a animus quiz too. Email me any suggestions at [no emails] :p have lots of fun!
Created by: Dreamwalker