WESTERN EQUESTRIAN - What level of western rider are you?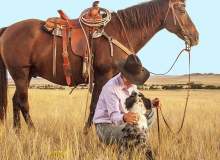 From reining to ranch riding, barrel racing to trail riding, western is a much loved discipline. So how far along are you? Are you just a horse lover from afar or are you in there sweating with your horse buddy?
Take this quiz to find out what level you are. Maybe you are just beginning, have been riding awhile or have a life with horses. See what your experience level rates.