Vaccines (And Doctors) Be Like...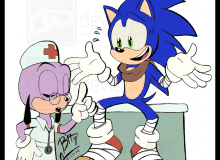 Me/K: I HOPE YOU ENJOY!!! I guess I'm proud of this! Also, this idea for the quiz was from Pizza King Trem! This is ANOTHER "BE LIKE" quiz! I hope you ENJOY!!!
Me/K: I added some more characters too. There's Sonic, Tails, Silver, Chat Noir, Bakugou, Deku, Espio, Rigby, Mordecai, and Benson! Also, they do NOT belong to me, their from Regular Show, Miraculous, SEGA, and MHA.
Created by: Sonic Tails Lf