How much do U know about Sonic the Hedgehog?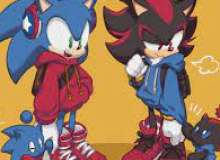 Me/K: HEYO! Today, I have gathered up some questions about the Sonic characters and we will see how much you know! I hope you enjoy it!!!!!!!!!!!!!!!!
Me/K: I'm not sure if you consider this hard or not. It depends on how much of a fan you are. I got some stuff from the game and comics so enjoy! That's all, now begin!
Created by: Sonic Tails Lf