Smart IQ Test - 13 Mind Trick Questions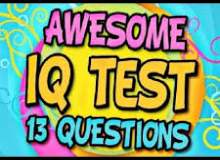 How smart are you really? This simple test has been used for over 50 years and has tested reasoning and intelligence with great accuracy. If you don't score high, remember, you can always improve. Good Luck!
IQ test - Are you smart? How strong is your mind?
Mind tricks - Learn how to be smart or more intelligent.
Funny Brain games. Best Mind and Brain Tricks.
IQ Test / Intelligence Quotient Test - Trick questions.