Political Ideology Survey | Conservative or Liberal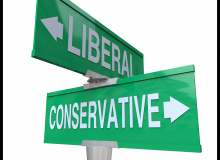 Directions: This survey will give you an idea of where you fall on the political ideology spectrum. Read each statement. Then decide if you AGREE or DISAGREE with that statement.
Try to respond to each statement as best you can. If you are unsure of your response, try to pick the side that you "lean" more in favor of. This survey gives only a general picture of your political ideology, so it's OK if you are a bit unsure.