Piracy and Privateering in the Early Modern Period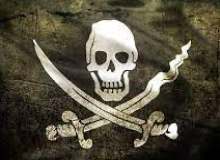 A sunny afternoon at sea on the twenty-fourth of April, 1715. You are the master of merchant vessel plying off of Barbados. Suddenly, a call from above: 'black sails on the horizon! Pirates!' Your tiny ship is boarded without a fight and your entire crew is thrown overboard.
You are approached by the fearsome pirate captain. Because you are the master of the ship and, let's face it, times have been hard for the pirates and they need more crew mates, you may be of some use to them. But first, your knowledge of piracy and privateering must be tested. Can you pass their test and save yourself from Davey Jones' Locker? Or will you walk the plank? Take the quiz and find out!
Created by: Murdoch/Abernethy