Is Your Character Good for Roleplay?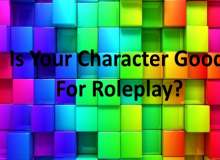 I have a quiz that explains if your character is good for roleplay, or bad for roleplay. Hopefully you get good, because that will be good! If you get bad.. well.. that's bad. Have fun taking this quiz!
If you want to have another quiz like this, or, just another quiz from me, I will make more soon. Anyways, have fun taking the quiz, and make sure you take it again using a different character!
Created by: Roleplayer