Is Your Character a Self-Insert?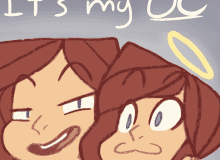 Is your character a self-insert? This in depth quiz can help you find out. After all, the first step to recovery is accepting you have a problem (or your character in this case).
This quiz is intended to be used to diagnose if a character is a self-insert. This quiz works for both original characters for original stories and fan characters.
Created by: Stelluna of Stelluna's Writing 101
(your link here more info)