Intro to Answering Your Questions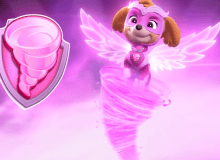 Hi! I'm Skye, the air pup and aviator on the PAW Patrol. I am going to make a quiz called, Answering Your Questions. This quiz is the introduction to that one.
You can ask me questions about anything! Questions like: What's your favorite mission you've been on? or Do you prefer Mission Paw or Ultimate Rescue? are some ideas.
Created by: Skye04