How would Bakugo feel about you?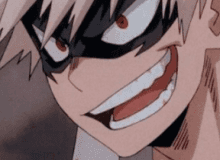 Wanna know what Bakugo Katsuki would think of you? Me too! That's why I made this! I really hope you enjoy this quiz, not that I worked hard on it, I just want you to enjoy lol..so do it extra!
I'm very sorry if you don't get what you want, but just know that this is a stupid quiz online, there are plenty more with all different results, I'm sure you will get what you want on a different quiz!
Created by: Kacchan'sSister