How much do you know about Splatoon?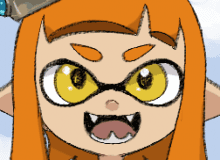 Hi, I like milk and I don't need to write about my life story or something. This is not an auto-biography. Do not read this unless you really want to.
Why do I have to write 150 characters in this stupid box? I don't know why I need to type a bunch of words and make my hands tired. Why do you give me such torture?!
Created by: grimmchild of PLEASE TAKE MY SURVEY
(your link here more info)