Enneagram Passion Test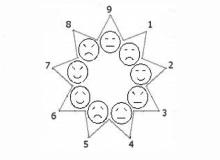 Welcome to the only Enneagram passion test available! There are different ways we deal with our weaknesses. Some will simply act upon them, while others will try to act in an opposite way to counter them. You may already know about the phobic 6, who are almost always convincing themselves that they're destined to fail, unlike the counterphobic 6, who tries to act against their core passion, fear, instead of acting along with it. This leads them to aggressively face their problems, unlike the phobic 6.
This still leaves the question of why the Six alone would have this dual characteristic. To solve this dilemma, some Enneagram authors have argued that there is a counterpassion version of each type. This test will determine your passion type, however, you might actually be a counterpassion type; for this reason, the test is meant to be taken in conjunction with the Enneagram Counterpassion Test. Whichever result gets the higher percentage is you.
Created by: Ezekiel