Ecological Footprint Calculator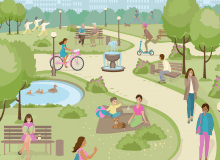 The ecological footprint is measurable and can be calculated. By answering the questions from the quiz, calculate your ecological footprint. The calculator was created as a result of collaborative activities carried out as part of the eTwinning project The green changemakers.
The calculator consists of 39 questions that need to be answered. Once you have entered your answers, you will receive feedback in accordance with your ecological footprint. Do not forget to tell your friends about this quiz, so that you can test your eco knowledge together!
Created by: Sanja P. Sijanovic of The green changemakers
(your link here more info)