Do you need braces, headgear?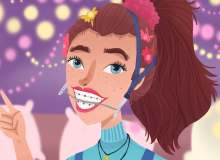 Have you ever wondered if you needed braces or headgear or both? Are you too embarrassed to ask your dentist or orthodontist? If so take this quiz and we will tell you what type of braces headgear you will need! Take the quiz now! and post your smile in the comments!
(Remember I am not a certified orthodontist, you should ask your real dentist/orthodontist) Post a link to a picture of your teeth/or picture and side profile with your teeth closed below and I will give you an explanation about why you need or don't need.
Created by: The-Orthodontist!