Do you have a chance with Shoto Todoroki?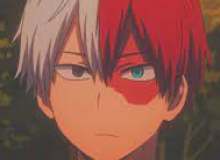 Are you Todoroki's love interest? Well, if you want to see how compatible you are with this introverted man, I suggest you take this 13 question test to see how large or slim your chances of being with Shoto would be.
This will be a small "roleplay" type test that will give various choices for you to pick. It may not be accurate to what you would actually say, but come on, this is mostly to pass time if we are all being honest. Meaning, the results you get on this test are probably not correct. Just keep that in mind.
Created by: Dutch Brossss