Are you Alya,Marinette or Chloe?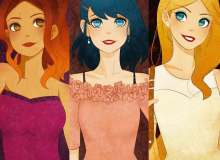 Wanna find out who are you alike from miraculous ladybug?? Are you confident Alya, clumsy Marinette or spoiled Chloe? I dunno what to put here XDDDDDD
What do you think??? Who is your fav from this trio Chloe, Marinette or Alya?My fav are Chloe and Alya. Its sooo hard to make quiz who thought is that hard???
Created by: MiraculousImI<3