Are YOU a Wolf Furry?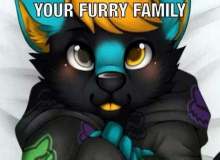 HIIIIIIIIII, this test is to see how much of a wolf furry you are.And this test is also for NON-FURRY-HATERS ONLY.Be honest or your scor will be messed up...
Will you be alot littel or no part wolf furry????My motto is to NEVER back down to haters!!!! never ever ever you understand.Being a furry is awesome.And dear haters, im not a furry for just being and animal, or dressing up, or being colorfull, but we are furrys so we can express our selfs though our charecter and just simply being unique.So back off beacause we arnt going down without a fight and we will never stand down!!!! from, All the furrys out there!
Created by: GayAphaFurry