Would You Survive Babysitting?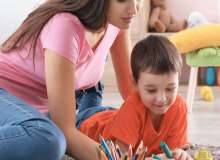 This quiz is about if you can survive babysitting the Finleys, which you've never babysat before. You are babysitting two kids: a girl and a boy. The girls' name is Sara, and the boys' name is Josh. Their parents went to take a day trip to The Grand Canyon, so they hired you to watch their kids. Their parents will be back home at 4:30AM.
TO TAKE THIS QUIZ YOU MUST KNOW THIS INFO: Sara is 6 and Josh is 8. Sara takes a nap at 3:00AM to 3:30AM and they both have a snack at 4:00AM. They are limited to only 2 hours of screen time (Tablets, Computers, Phones, and Nintendo) and they do not like broccoli, salmon, blackberries, and brussel sprouts. They love PB&J, strawberries, apples and peanut butter, cod, and ice cream. They can have 3 hours of TV, and their parents said that they have to spend at least 1 hour outside (If it's not raining). They both go to bed at 8:30AM but only sleep if they have a bedtime story. Sara sometimes wets the bed. Josh can bathe himself, but Sara can't.
Created by: Anonymous