Wings of Fire Love Story-Part Two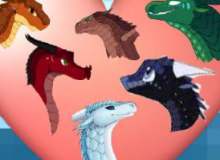 Hi! Since there are only... Well very few Wings of Fire love stories, I have desided to make one! It's my first time, so PLEASE do not judge this, cause that would be mean.
Welcome to the second quiz! There are a few updates: 1: You do NOT have a specific name! 2: Two secrets get reviled! Eeee! I love this! I hope you'll have fun doing this!