Wings of Fire Love Story-Part One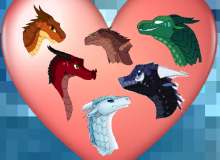 Hi! Since there are only... Well very few Wings of Fire love stories, I have desided to make one! It's my first time, so PLEASE do not judge this, cause that would be mean.
Welcome! You are an Icewing girl in Jade Moutain! (Sorry if your a boy) There are twenty five questions that I have written, so PLEASE enjoy! And leave if you don't like Wings of Fire.
Created by: BookAnimal