Wings of Fire Love Story-Part Three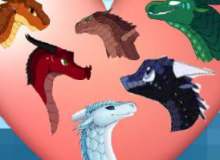 Hi! Since there are only... Well very few Wings of Fire love stories, I have desided to make one! It's my first time, so PLEASE do not judge this, cause that would be mean.
Welcome to the third quiz! This one may be shorter, but there is A LOT of writing! Also, a heads up for the next quiz, BlackThorn will be gone for a bit that you can only find out by in the quiz.