Will you be an Angel or a Demon (After death)?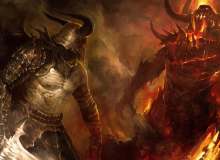 Are you more angel or demon? This quiz is for people who want find out if they truly belong to the light or if they have darkness within. To help with this quiz, just ask yourself what you would do with immense power.
Would you use you power to help and heal or hurt and destroy? As you know demons are the darker, more sinister beings compared to good pure angels.DISCLAIMER: This quiz is more about personality not religion.
Created by: RandomPerson