Will you be a successful sparrow?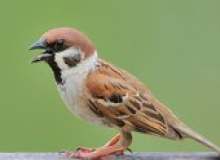 Hi! Welcome to my quiz! Have you ever wondered what will your life be like if you were a sparrow? A sparrow is a little brown bird that is very common in China. So...Prepare to find out! PS I made the quiz in the order of time. This quiz will begin in winter, and you will go in a cycle of the four seasons.
Usually, a sparrow lives in urban and rural areas, but you can find them in the wild, too. It is omnivory, which means it eats a lot of kinds of food. A sparrow is very alert, and life as a sparrow is not very easy. Go on and find out about your sparrow life!