Who was destined to sing the duet of this century with you?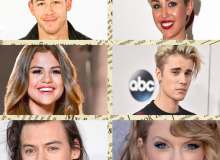 Have you ever wondered which popstar would be the perfect duet partner for you? It's time to find out if you are more likely to sing right next to Selena Gomez, Billie Eilish, Shawn Mendes or someone else...
By simply answering ten easy questions, you get to know who you were destined to sing side by side, maybe even hand in hand with... After this short quiz you can start working on the small details, that will make your duet a real hit song!
Created by: Dorothy