Who really deserves Firestar?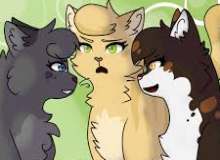 This is a quiz to see who is really supposed to be Firestars mate. Imagine that your Starclan and you get to decide who is really meant to be Firestar's mate.
Starclan may or may not have chose the right mate for Firestar. Choose your cat. Please ignore any spelling errors. My computer is running too slow so.
Created by: Sparrowtail