Who in the Golden Trio are you most like?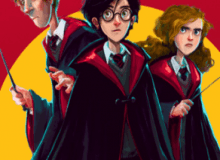 Hey guys! How's it going? I know, I know, I've not been posting much lately. But, here I am! Today I will be quizzing you guys on who in The Golden Trio you are most like.
So as usual, there are 10 to 12 questions in order for this to work. Just wait one second. Anemone, why are you dressed as Hermione Granger? Anemone: Because I am basically her double. Turtle: Don't you wanna take the quiz first? Just to be sure? Anemone: No, I'm good. Now shut up and let me through. Turtle: How did I end up like this?