Which of the trio are you?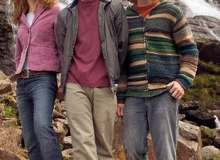 Hello guys! Are you excited? This quiz is a little common and boring to some but it is a philosophical quiz that I hope you will enjoy. If you don't please tell me in the comments or check out some of my other quizzes on my site.
Will you get Harry, Hermionie, or Ronald Weasley? This quiz is meant to help you find out wich of the trio you are. Are you brave, daring Harry Potter, or kind, clever Hermionie Granger, or cute, rash Ronald Weasley? Let's find out!
Created by: GinnyWeasley12