Who are you, really?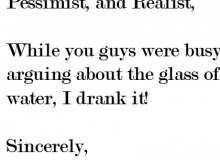 What do you think of when I ask "who are you"? Your name? Your age? Your gender? Your personality? This quiz will not determine any of those, but your "mental outlook".
So, are you a pessimist, optimist, opportunist or realist? Perhaps you already have one in mind. This quiz may surprise you. Answer honestly, and you will get accurate results in several minutes!