Who Are You in Harry Potter?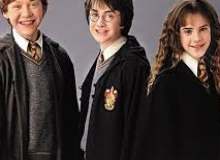 Harry Potter facts: Harry Potter is a series of fantasy novels written by British author J. K. Rowling. The novels chronicle the lives of a young wizard, Harry Potter, and his friends Hermione Granger and Ron Weasley, all of whom are students at Hogwarts School of Witchcraft and Wizardry. The main story arc concerns Harry's struggle against Lord Voldemort, a dark wizard who intends to become immortal, overthrow the wizard governing body known as the Ministry of Magic, and subjugate all wizards and Muggles (non-magical people).
Hermione Granger facts: Hermione Jean Granger is a fictional character in J. K. Rowling's Harry Potter series. She first appears in Harry Potter and the Philosopher's Stone, as a new student on her way to Hogwarts. After Harry and Ron save her from a mountain troll in the girls' toilets, she becomes best friends with them and often uses her quick wit, deft recall, and encyclopaedic knowledge to help them. Rowling has stated that Hermione resembles herself at a younger age, with her insecurity and fear of failure.