Which Wings of Fire tribe do you belong in?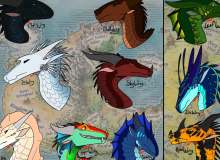 Hi guys! I wanted to make a Wings of Fire tribe quiz (just for fun) that isn't super obvious which answer is going to give you a certain tribe. I included all the Pantalan and Pyrrhian tribes, so you could get any of them! By the way none of the art is mine all credit goes to the artists :)
I had a really good time making this quiz and I hope you have a really fun time taking it. I worked pretty hard. :) The only rules are simple. 1. Answer honestly! 2. Have fun!
Created by: Olivia