Which Wings of Fire Dragonet of Destiny are you?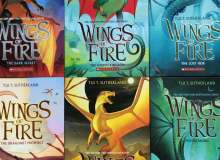 If you have read Wings of Fire then you know the five main characters: Clay, Tsunami, Glory, Starflight and Sunny. Which one are you? Find out here!!!
If you have not read Wings of Fire by Tui T. Sutherland then I totally recommend it! Have fun with my personality quiz and check out some of my other quizzes and polls!
Created by: SnowdriftTheIceWing