Which warrior cat are you? Quiz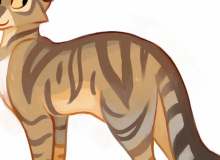 This is a quiz for those warrior cat fans out there! If you are wondering which warrior cat you are, you have come to the right place! This quiz will help you with the question on the top of your head!
It has characters that you might like! Bramblestar, Graystripe, Crowfeather, Leafpool, Squirrelflight, and Mistystar! I am pretty sure that if you find out what cat you are, you will be more happy with your cat that anything!
Created by: Irelynn Loney