Which Titan Can You Transform Into? (possible spoilers)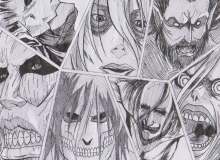 Attack on Titan is a best-selling manga series. Do you want to know which titan you can transform into? There are nine possible results on this quiz, and you will be assigned your best match.
This quiz may contain spoilers if you haven't read the manga.. or if you haven't watched season 2. If you wish to continue then you must have some knowledge of the Nine Titans to answer some of these questions.
Created by: Silver Shihaisaigai