Which Nicer_Things PhanAU Character Are You?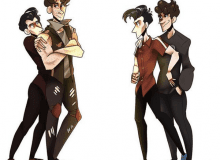 Ever wonder who you're most like out of Petrichor, Sleight of Hand, or Spider And I?No? Well, never mind, you're here now so you might as well go ahead and take the quiz.
There are 6 possible results to the quiz. You may answer honestly or pick whatever you think will get you a certain result (which slightly defeats the purpose of the quiz but who cares?). Have fun and, if you wish, look up the song that you get with your answer. I promise they're all good.
Created by: Nicer of Read Sleight of Hand and Spider And I:
(your link here more info)