Which of my Book Characters Are You? (Fever.Sheep)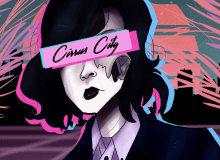 Have you ever wondered what character best represents you within the universes of SS Exodus/Cirrus City or Sleight of Hand? No? Well, why don't you take the quiz anyway? It'll fill up a few minutes if nothing else.
There are eight possible results to this quiz: five characters from Cirrus City and three from Sleight of Hand. Do your best to actually answer the questions instead of just trying to get a character you like. Or do that if you fancy. I'm not the boss of you - live like you want to.