Which Naruto or Boruto Jonin Sensei Would Teach You?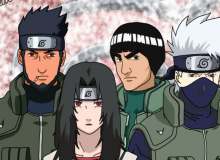 This is just a quiz you can take to see who would be your Naruto sensei if you lived in the Naruto world! You have multiple answers to your decision, so choose wisely
You have a total of 8 answers: Asuma Sarutobi, Kurenai Yuhi, Kakashi Hatake, Jiraiya, Konohamaru Sarutobi, Might Gai, Iruka Umino and Tsunade Senju. Who will you get?
Created by: Ichika Otsutsuki