Which My-Little-Pony Character Are You?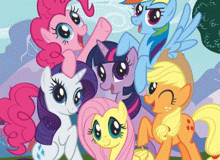 Have you ever wondered which of the infamous main six My-Little-Ponies you are? Well that's why you're here, to find out! Are you pink-loving Pinkie Pie? Sweetly shy Fluttershy? Clever Twilight Sparkle? Optimistic Applejack? Fashionable Rarity? Or speedy Rainbow Dash?
Take this accurate and entertaining quiz to find out! If you have any comments, suggestions or questions please comment. Also tell me who you get, now keep calm and quiz on.
Created by: Jade